If you haven't given your wedding day hairstyle much thought, or simply don't know where to start… don't panic. Guest blogger Aideen McCanny shares some top tips for choosing the bridal hairstyle which is right for you!
1) Choose your dress first
Before you begin the quest to find your perfect hairstyle, make sure you've found the dress of your dreams. The style of your dress will impact massively on your chosen style. One-shoulder, backless and strapless dresses all call for different styles so make sure you tick this off your list first.
2) Buy your hair accessories
After you've found your dress, choose your hair accessories before you decide on a hairstyle. Whether you choose a veil, comb, hair band, floral crown or delicate clips, bring these to your hairdresser so they know exactly what they are dealing with.
3) Be realistic
If your hair is short or fine, be realistic about what you can achieve. Don't aim to grow your hair in an impossible time frame, but instead, consider extensions. Discuss this with your hair stylist and listen to their advice as they no-doubt will have guided numerous brides over the years.
4) Be prepared
As soon as you've found your dress, begin your search for the perfect style! A good place to start is with the designer's photo of your dress. Find your dress online and look at which hairstyle the model is wearing as it will most likely complement it. Browse wedding magazines, online blogs and Pinterest (undoubtedly the best source for inspiration) and keep a mood board so you can easily establish a pattern in what you like. Try to narrow it down to just a few styles.
5) Book a trial
Don't neglect this step as it will save you much time, stress and heartache on the morning of your wedding. Booking a trial means that you can bring along photos of styles that you like and try a few to determine which looks best. Don't forget to listen to your stylist as he or she may offer suggestions you hadn't even considered. Ask for tips to ensure your hair is in the best possible condition for the wedding and if you are considering having it cut or coloured, seek advice on when is best to have this done. But remember, drastic changes before your wedding are not recommended! Ensure any changes are subtle to avoid drama in the run up to the big day.
Upstyles
Upstyles are perfect for dresses with delicate back detailing that is too pretty too hide. They are also ideal for destination weddings as they will keep you feeling cool!
Source: Pinterest
Downstyles
Long, luscious locks go hand-in-hand with flowing gowns. Add floral finishes for a true touch of romance.
Source: Pinterest
Best of both
Can't decide. Get the best of both with a half-up half-down creation and finish those tresses with gorgeous accessories!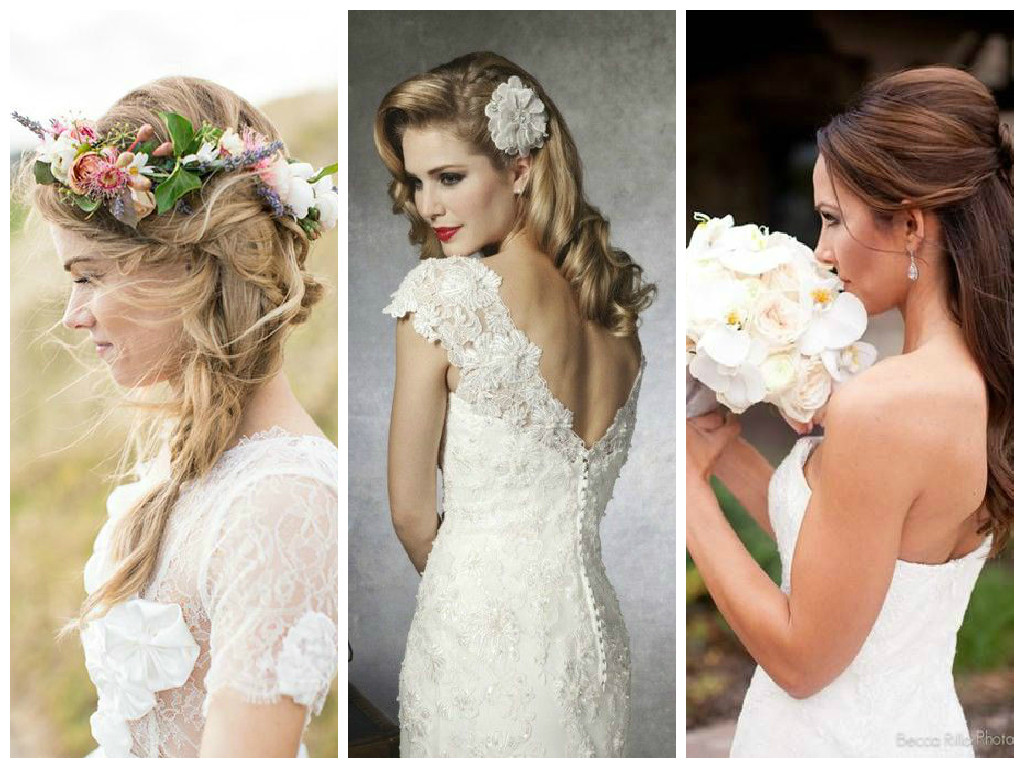 Source: Pinterest
Category: Fashion, Tips, weddings