Earlier this month I got to spend a morning with Heidi Campbell – one of N.Ireland's newest wedding entrepreneurs! I photographed Heidi's wedding last year and loved the stationery and theme she had designed for the day. So when I heard Heidi has now entered the stationery business we had to catch up!
Heidi describes her business as "a little stationery company that designs and crafts handmade wedding invitations and stationery."
…for the benefit of the readers, how did you get started?
Well I just loved designing and creating the stationery for my own wedding – it was a lot of fun. I had loads of compliments. Someone saw those invitations, and then I got asked by another couple to do theirs, then another… and the rest is history.
And so you've setup a studio in your home – quite a big step!
Indeed, but it's great fun and the customer feedback has made it all worthwhile.
…so why not just go to Marks & Spencer and buy your stationery there?
Well why wouldn't you buy your wedding picture frame in Ikea?
Ha ha – you are playing me at my own game! Well I wouldn't personally do it as I know the product won't be of the standard I expect – and I want something a bit more customised. 
I guess it's the same concept then – wedding stationery is one of the many details that has to be just right and handmade invitations are the perfect way to invite your guests to your wedding – they are more personal, more unique and more you.
Your wedding invitations are the first glimpse your guests will have into your big day (everything else is a well kept secret – shhhh!) and to really make them feel valued and treasured, a personal invite is the perfect touch. They are also a very useful way to let your guests know all of the who, when, where, etc to help them get organised too!
Choosing thoughtful handmade invitations is a great way to show how you have carefully planned every detail of your wedding and how it fits with you and your partner's relationship. You can pick little details, like where you got engaged or even your favourite thing to do together as a theme and these design ideas will add so much charm (even a sprinkling of enchantment) to your Mr & Mrs story.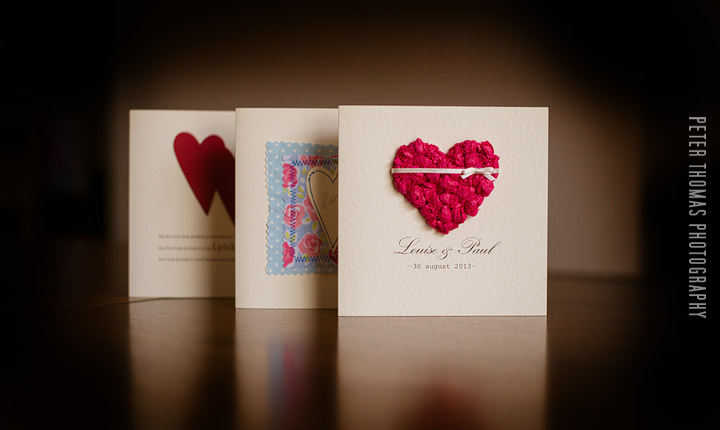 Or perhaps a photo of their engagement session 🙂
Nice plug Peter!
Never one to miss an opportunity! What selection of cards do you make? 
I make bespoke stationery which ranges from traditional to contemporary, vintage to floral, glitz and glamour to delicate lace and pearl. I am always keen to understand what type of wedding you want to have – that inspires me to design something totally unique for you. I colour coordinate all materials to create beautifully finished high quality invitations and will work closely with you from the design stage at the beginning right through to finish.
This sailor theme looks cool!
Oh that's what I call 'tying the knot'. It's more nautical than sailor! I've used shells, rope and blue tones to give a very unique look. I learnt how to tie a "half-hitch" knot so I could use it in the wedding invitation and coordinated stationery (it's maybe where the expression "getting hitched" comes from!).
Yes it's great! What other designs do you have?
I am always crafting new designs in my studio. There are always new ideas I want to try and at the minute I'm adapting my sewing techniques to create an appliqué element on card.
What the blazes is an appliqué?
It's like a small ornament or design – so like an embroidered flower you would see sometimes on a quilt.
Ah you learn something new everyday. Sorry to interrupt – continue…
I love working with paper and there are so many patterns to choose from and to mix and match. Weddings are going softer, sweeter, lusher and more heartfelt, a return to classic chivalry. Timeless delicate lace with this season's soft blushes and peaches looks stunning with ivory card. Vintage luxe is hot on trend as well as we welcome glitz and glamour to this year's designs. Soft touch glitter card and sparkly diamanté look beautiful, especially when they catch the light!