So, the wedding is over! You're a newly-wed and you're feeling on top of the world. Well, actually, this isn't the happy picture for every bride (or groom) out there. Maybe you've been left with a void. You've spent the last year or two fully immersed in wedding planning… dealing with vendors, pouring over guest lists and seating plans, booking fittings, attending appointments, viewings and more.
With so much of your life focused on your one 'big day', it's no surprise that many brides feel a little blue, sad or depressed even. Post-wedding blues are a real thing and its occurrence is on the rise. So what's next?! Check out just a few tips to beat post-wedding blues and go from wistful to blissful.

1. Don't dash off on honeymoon
It's no surprise that you're likely to be exhausted after what was a whirlwind of a wedding day and so it's advisable to take a day or two to rest before jetting off on honeymoon. By allowing yourselves a couple of days, it will actually give you some time to look forward to it, as well as some much needed time to recover from the wedding.
2. Plan a mini-moon
If your honeymoon is later in the year, make sure you have something to look forward to sooner, by booking a mini-moon near home. Ireland boasts some amazing guest houses, lavish hotels and romantic cottages so take a trip and enjoy your first few blissful married days together.
3. Allow time before getting back to it
If possible, give yourself time before going back to work. Consider how many days you really need off prior to the wedding as it's a good idea to save a few post-wedding so you don't have to rush back to work.
4. Talk it out
Post-wedding blues isn't a cute term for wanting to recreate your wedding day all over again. It's a genuine comedown after experiencing such an extreme high. A problem shared is a problem halved so talk to your partner about how you are feeling. Remember, you married this person for a reason so talk it out. You might even discover they are feeling the same, or at the very least, they'll endeavour to support you in anyway possible.
5. Plan ahead
Your wedding wasn't just one day – it's a major event in your life that probably required a couple of years to plan. With so much time devoted to it, it's no surprise that you'll have tonnes of spare time, so fill up your calendar. Start a new hobby, work out more and plan events, such as a spa day with your mum, or a catch up with friends. These mini-events will give you loads to look forward to and serves as the perfect distraction.
6. Write your thank-you notes
When it comes to writing your thank-you notes, get creative, put some thought into them and make them personal. It will mean so much more to the person receiving it. Writing these is also a great way to feel connected with the people who attended your wedding.
7. Sort your wedding album
Many couples will admit that the thing they look forward to the most following the wedding is picking up their wedding album. Once your album has been finalised and is ready for collection, why not make an event of it? Get in a bottle of bubbly and sit with your partner as you look through it together at home. The photos will recall some wonderful memories of the day.
8. Plan date nights
It's important to plan some date nights together, so make a point of having one date night together a week, if possible and take turns to organise it.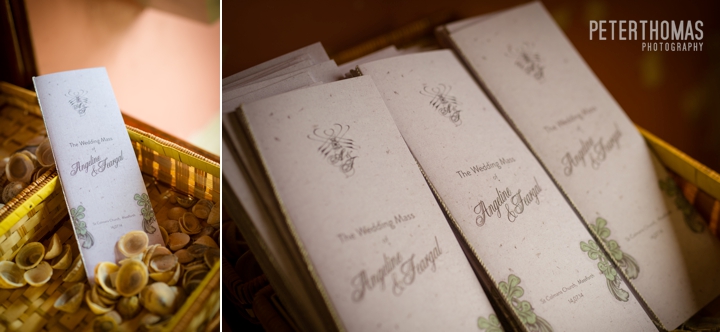 9. Get organised
In the run up to the wedding, your house has probably been (justifiably) neglected. Get spring cleaning and spend time clearing out and organising your wardrobe. File away all your momentos of your wedding such as swatches, samples, cards, invites and table numbers, have your dress dry cleaned and store it away and if you're taking your partner's surname, sort out any official documentation.
10. Relax
Relaxing is the perfect way to soothe the post wedding blues. Yes, take a trip, organise your house and write thank-you notes, but remember to sit back and relax too – it'll help you gain a little perspective. Your wedding day is over but this isn't the end. It's just the beginning of your lives together and you have years ahead to create some amazing memories.
Aideen McCanny is our resident guest blogger, fashion and wedding guru. She has written for many of Ireland's top fashion publications.