In my opinion one of the most challenging photographs to take at a wedding is of the bride coming up the aisle. Churches can often be dark, flash photography is sometimes banned – and all this while shooting a moving object. Of course, a professional photographer will be able to work with whatever the conditions, but here are a few hints to help.
1. Walk in Slow motion!
No matter how long the aisle is, walk slowly! I'd recommend walking at approximately half-speed. It may seem slow, but it will give your photographer time to take a few pictures. It will also give your guests (and future husband!) more time to admire you.
2. Organise the Bridesmaids
Bridesmaids usually walk down the aisle first, although there is no set rule. Whichever order you choose, make sure they also walk slowly.
Leave a good space between bridesmaids
Most importantly, think about the timing between bridesmaids. If they are too close your photographer will struggle to take a picture of the middle bridesmaid. As a general rule of thumb, the 1st bridesmaid should be three-quarters up the aisle before the second starts to walk up the aisle. For impact, it is often best for the bride and her father to wait until all the bridesmaids have reached the front.
Think about where they should stand when they arrive
At the rehearsal, have a practice run and make sure the bridesmaids know where to stand when they arrive at the altar. Make sure they aren't blocking the videographer!
Help the kids
Flowergirls and page boys are great at weddings. Depending on their age, you may wish to have a bridesmaid accompany them up the aisle.
3. Smile!
Enough said!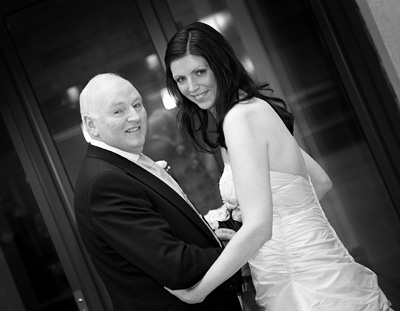 4. Don't forget the orders of service!
A minor detail, but you may wish to ensure that whoever is officiating the service has orders of service for the bridesmaids and bride. There's nothing worse than singing a hymn with no words!
5. And the same applies when you are coming back down again!
All of these suggestions equally apply when the bride and groom are coming back down the aisle. It is often best for the bridesmaids to wait until the bride and groom have completed their journey down the aisle before they start. This means that your photographs won't have other members of the bridal party in the background.
And finally…
Coming up the aisle is an important but small part of your day. The hints above are just suggestions – if you don't get time to think it through don't worry – just walk slowly and enjoy!