As the wedding season ends, it's always great to take some time to reflect. 2011 was our busiest year yet – I had a ball doing all the weddings and lots of other fun stuff. It was also the year of the big move into Belfast.
I sat down the other day in a nice wee coffee shop called 'The Cosy Chair' and wrote down a number of winter projects – things I want to do to make things even better. Some of the projects are tiny and easy, some are much more time consuming and difficult. Some are very exciting, some are a bit boring! Basically, no area of the business is untouched – so I thought it would be interesting to blog some of the changes – it might give you a good insight into the company and what makes us tick.
One of the biggest things I'm focussing on is customer service. In the midst of all the 2011 weddings, it was really difficult to keep up, respond to emails quickly, get albums delivered on time etc. So my first few winter projects are all about improving that so our 2012 customers have an awesome experience.
The first wee project around this was dead easy – the second one much more tricky (I'll blog that one later in the week – but its very big for us!).
So this week we welcomed the Peter Thomas whiteboard to the studio. No more lost emails, electronic todo lists – they just don't work. At a glance we can now see what needs done! Wohoo! As per usual my DIY skills weren't too good, so it might not be totally straight :-). I have already found the immense satisfaction of wiping something of it! Feels so good!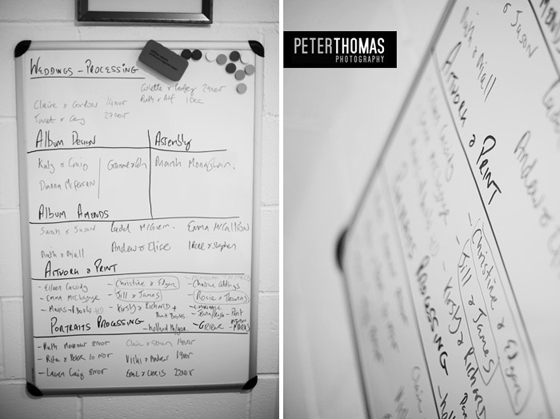 So there you go – the first winter project complete. As Tesco say – 'every little helps'…