A few months ago I launched a customer survey. I wanted to find out exactly how my customers felt about my service.  I wasn't planning on publishing them, but I'm pretty happy with the results – so here are a few highlights.
The survey was sent to 80 recent wedding customers and the response rate was about 60% – a reasonably good sample. The survey was completed online and anonymously to ensure customers felt free to give honest answers.

100% of our customers are likely to recommend Peter Thomas Photography.
With any survey, there is really only one question that matters. If your customers are happy to recommend you, your doing a good job. I asked 'How likely are you to recommend Peter Thomas Photography?'. (Very likely, Quite likely, Not Likely, Very unlikely)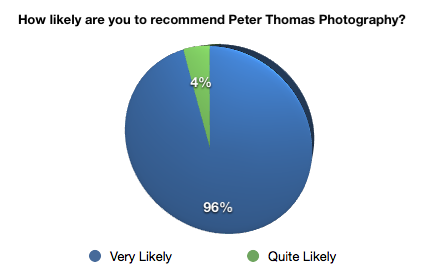 100% of customers were satisfied with their wedding album

When asked how satisfied our customers were with their album, more than 97% said they rated it 'excellent'. The other 3% said they rated it 'Good'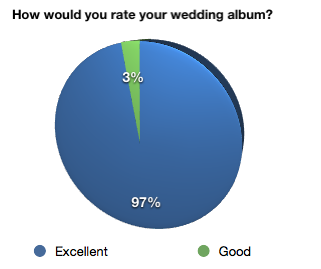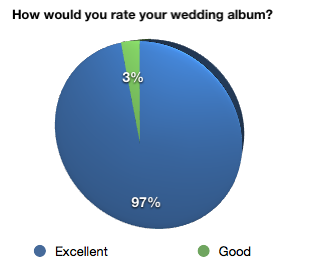 More detailed results

For those statisticians – feel free to browse through some more of the detail! (trust me – there is a lot more than this!)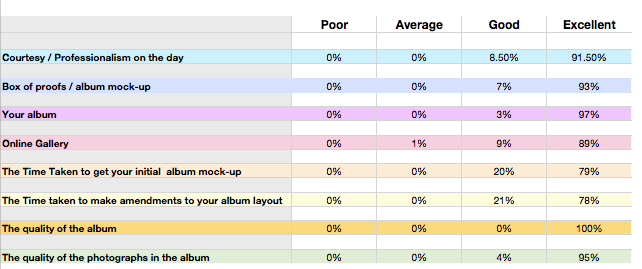 Freeform answers


Customers also had a chance to write some comments on any positive or negative experiences they had. Here's a selection of responses to the question "Let us know about anything you think we could improve on. Feel free to explain any negative or positive experiences you have had."
"You made us feel relaxed and added to the enjoyment of the day, the photographs you've taken of both the wedding party and our guests are perfect and we appreciated how unobtrusive you were after taking the official photographs when taking pictures of our guests mingling."
"Peter was extremely efficient at getting our proofs and mock-up album in good time and soon after the wedding."
"Peter was friendly and accommodating throughout the whole process. He was very willing to adapt to our needs and wishes. He arrived early to capture hairdressers/beautician photos and stayed until after the 1st dance which we really appreciated as not all photographers are willing to do that and it meant we had a record of whole day. He was unobtrusive and many guests said they weren't even aware of him capturing shots of them so we have some lovely natural photos of guests. He was polite and encouraging to guests when trying to take group photos unlike some photographers I've encountered at weddngs who can be rude and bullying. We have recommended Peter as we were very happy with the service he provided :)"
"We were 100% happy with the service. You were so friendly & helpful throughout the whole day."
"Wasn't greedy and you did not feel you were getting ripped off. Very good package and photos and quality all very high standard. Highly recommended."
"Everything was excellent – we were really pleased!"
"The service we received was excellent! No negative experiences!"
"We couldn't fault Peter Thomas Photography in any way. We were delighted with everything Peter did for us."
"Everything was fantastic, in our opinion nothing could be improved, we were delighted with the service provided and our album"
What I learned

Overall the survey was really positive and I was delighted. My customers also gave us some great feedback, and areas for future growth and improvement. Of course, customer feedback is useless unless you actually change for the better, so here are a few things I have implemented since the survey, based entirely on customer feedback.
I have much improved my pre-wedding consultations. I now provide a list of photographs and have a more detailed discussion around the photographs desired. This has been well received by new customers.
I now take more photographs which suit framing. Close-up, romantic type shots – plenty of stuff to fill our new selection of frames.
Improved posing of brides. The photographs haven't changed, but I've improved how I direct the bride and group photographs.
Its important not to become complacent – so if you have ever got any feedback just let me know!