Accessories play an important role in any outfit – they make a statement, pull together a look and create a true sense of style. These finer details can convey the theme for your wedding day and play a vital role in truly accentuating that gorgeous gown you've chosen. Whether you want to evoke a sense of elegance or are more about delivering a dramatic statement, here I answer the most commonly asked questions when it comes to choosing wedding day accessories.
Where do I begin looking for my accessories?
It's important to choose your wedding dress before your accessories to ensure these co-ordinate. When trying on your dress in the bridal boutique, pay attention to the style of accessories the assistant pairs with your dress. You may decide to purchase these in store but there's no harm in looking around. Get a feeling for what you like and what matches your dress. Try on as many pieces as possible and consider what feels comfortable and complements your dress rather than detracting from it.
Make sure you look online. There are so many great companies now offering exceptionally beautiful wedding day accessories. Look through their galleries and get in contact with them if you have any questions before you buy.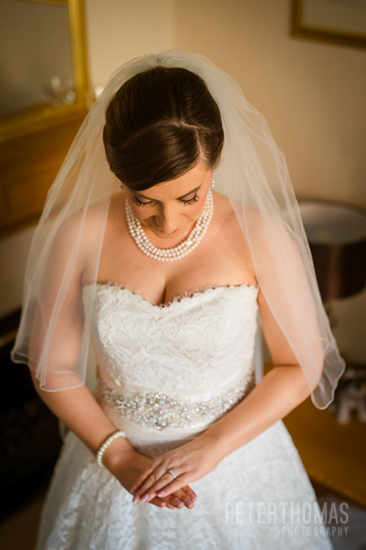 What about bespoke jewellery?
Customised jewellery and accessories are becoming increasingly popular. If you are able to do this locally, meet with the designer and share your ideas. Show them plenty of photos of the style you have in mind (Pinterest is great for collating ideas) as well a photo of your dress. Your designer may suggest some styles you hadn't considered so give these options some thought too. Establish dates for seeing how your piece is coming along and discuss payment terms.
If you decide to order online, do plenty of research! As you probably won't meet the person, do not proceed if you feel unsure. Only use reputable websites with extensive galleries, clients' feedback and full contact details. Ideally, speak to the person on the phone and be clear about what it is that you want. You have the right to receive photographs of your piece as it progresses and be kept up to date.

How will I know if I've chosen right?
Sometimes it can be difficult to envision an overall look so he best thing to do is to try it all on. Ensure you have your shoes, hairpiece and jewellery purchased in advance so that you can try it all on at your bridal fitting. Bring someone along who will share their honest opinion and take photos so that you can look back if you need to.
I don't usually wear much jewellery. What should I do?
This is a personal choice but if you don't normally wear much jewellery, your wedding day is not the time to try it out! There are a wealth of delicate, ornate accessories which you will probably feel more comfortable in. Many people choose one statement piece and keep the rest of their accessories simple.
Should I wear gold or silver jewellery?
Again, this is a personal choice. Consider what you prefer and usually wear. Gold jewellery looks stunning with ivory and gold toned dresses while silver is immensely popular and pairs perfectly with white and ivory dresses. Whatever metal you choose, ideally it should all match in terms of colour.
What about my shoes?
The modern bride is having much more fun when it comes to shoes! There is still a vast collection of truly stunning traditional shoes out there but many brides are turning to contemporary styles to evoke a sense of their personality. If making a statement isn't your thing – don't. Again, your style of shoe should complement your gown. You will need to purchase these sooner rather than later as you will need them for your dress fitting. Remember, you are going to be wearing these for hours so make sure they are comfortable. Ideally, break these in by wearing them around the house beforehand.
Aideen McCanny is our resident guest blogger, fashion and wedding guru. She has written for many of Ireland's top fashion publications.