Well I've been working hard today (on my day off!), so time for a wee story…
A few Saturday's ago, I met Gordon and Claire to take a few engagement photographs. They wanted to meet at Whitehead, as that's where they got engaged. So somewhat bleary eyed (this wasn't helped by the petrol station coffee that turned out to be hot milk!), I arrived at 9am. It wasn't long before Gordon & Claire's infectious sense of humour had me back on full steam.
I knew they wanted a few photos where they got engaged. Naturally I asked Gordon to show me the famous spot, and to my horror he pointed to the top of a cliff, way, way off in the distance. Off we set upwards, and upwards, and upwards (there is a little exaggeration here – but it makes it more interesting), and upwards, and upwards…and upwards.
Claire wasn't exactly wearing hiking boots (see below), but she steamed up the cliff path no problem. As for me, laden with camera gear (thats my excuse), the legs where fairly starting to sting…Putting a brave face on things ( but inwardly about to die) I was excited to see the land level out a little…and just then disaster struck. To my deep deep horror, we were presented with the sign below:

So our hike up the hill seemed in vain and I couldn't believe it…
Actually, it might have been the  best thing that happened as a quick look around and we found a field and got down to work!
Now in one corner of that field was an old, dis-used building. I remarked it might have been an old army building ( actually it turned out to be a less glamourous cow shed) and suggested we head over. At this point I do indeed think that the guys thought I was totally away in the head, and to be honest there was a really, really really good chance that this wasn't going to work out – but luckily we got the next few shots which I totally love: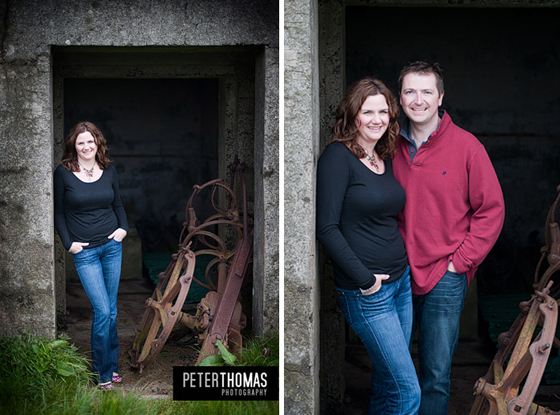 The way down was somewhat less dramatic:


Above Left: don't think I've taken a photograph where the blue in the background is actually the sea below..
So there you go – a really fun morning's work – and no need to go to the gym for about a week!