Getting married abroad can seem daunting but armed with some fantastic tips, it can be a truly magical affair! I was recently invited to photograph the stunning wedding of Patricia and Mickey in Majorca and was super impressed by just how relaxed and flawless it was. Following the wedding, I caught up with Patricia who shares some insight and words of advice for anyone considering saying their 'I dos' abroad!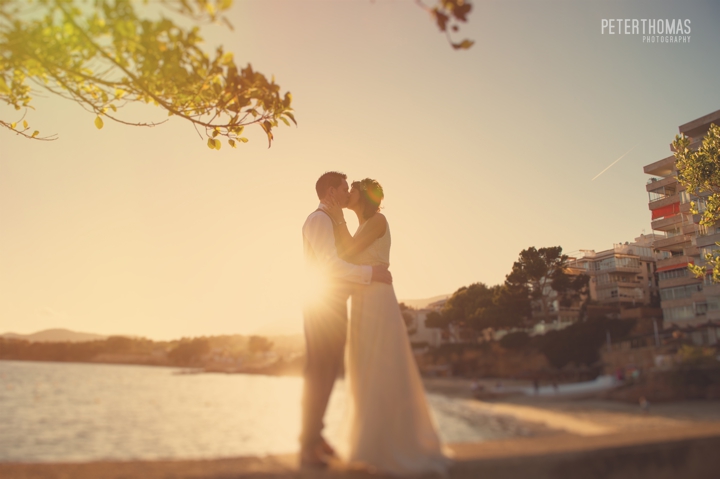 Patricia, when and where did you get married?
We were married on the 22nd May 2015 in Portal Nous, Majorca. Our ceremony took place at Nuestra Senora De Portals, Portal Nous and our reception was held at Capricho and Wellies, Puerto Portals.
What factors led to you deciding to get married abroad? Was it a difficult decision?
Neither of us had ever envisioned having a big wedding. We have been to a lot weddings and knew it wasn't what we wanted as we wouldn't be able to relax. We both love holidays and warm weather and we wanted the day to be really special and intimate and to be able to spend all day together. I have been going to Majorca with my family on holidays from I was little and my my mum and I still go there for a break every year so it has a special place in my heart. When we looked at going away it was the only place I could envisage getting married away from home. Mickey had never visited the island but he was excited by the thought of a new experience where as I am very much into knowing every detail when planning and organising.
We did struggle a little with the decision at the beginning as we have a dog Rex and we knew this would mean he wouldn't be there on the day, as well as a lot of our other family and friends but we decided to organise an evening party when we returned so that we could celebrate with everyone.
What was the atmosphere like on your wedding day?
We were both so excited on the day but the atmosphere was very relaxed and chilled out as there were no extra pressures and the day was purely about us. We just had my mum and dad with us although my two brother turned up unexpectedly at the church which was a great surprise!
The Church was really beautiful with fantastic scenery and I think the weather and back drop really added to the whole day. We had chosen a beautiful bar in Puerto Portals for Tapas and Champagne afterwards and I had reserved a table outdoors. You can see the luxury yachts from the bar and although the area is very luxurious it was really special and chilled out.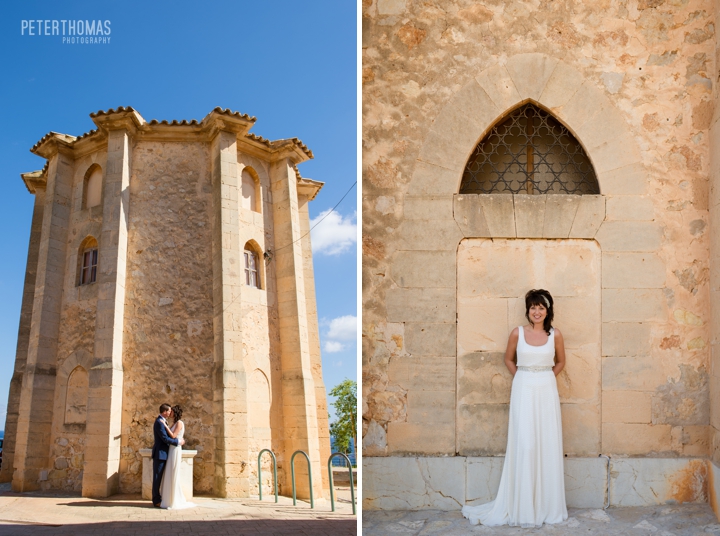 Did you hire a wedding planner? If so, did you find this beneficial? 
When I began to plan our wedding the thing I struggled with most was the legal side of things and booking the Church and Priest. It is more difficult to get married in Spain if you are not a resident and I received conflicting advice around this, but I discovered that you can get married in a Catholic Church if both the bride and groom are Catholic – the paper work then has to be brought to the local town hall to be registered within a week of the wedding day. I don't speak Spanish and although I carried out a lot of research online and contacted the cathedral in Palma for advice, I decided it was best to enlist the help of a wedding planner in Majorca to confirm the booking with the Church and Priest and also handle all of the paper work. I had already decided at that stage on the location but it was great to have someone to liaise with in terms of these bookings. I did find it a little difficult not to be in control of this but it was definitely a good decision for us as it meant that once we signed the marriage register on our wedding day the paperwork was all taken care of and our marriage certificate had arrived by the time we got back from honeymoon a few weeks later.
However, I didn't use the wedding planner for any of the other elements of the day as we had our own set ideas about what we wanted for the day and I wouldn't have entrusted anyone else to organise it. It was very time consuming but I enjoyed it and I had three trips to Majorca with my mum from getting engaged to the wedding date. This allowed me to look at venues, the church, meet the Priest, look at local florists and hairdressers as well as doing lots of online research. I tried to use a lot of the services locally. We also decided to book a wedding car which we weren't going to do initially, I found the details of a company called Mallorca Driving online. they had good reviews and we loved their old style Beetle. The service was brilliant on the day and it was a real treat. The car looked great in our photos too. I love planning and organising so it worked well for me. The wedding planner actually asked me which florist I had used on the day as my flowers were so beautiful.
How did you decide on your wedding venue?
I had a holiday planned with my mum to Majorca shortly after we got engaged. I did some research online before I went and also asked locally if there were any nice Churches and restaurants. We were told that the Church in Portal Nous had beautiful views and that some of the best restaurants on the island were based at Puerto Portals which the church overlooked and was a 5 minute drive away. (Portal Nous was only 15 minutes away from Palmanova/Magaluf area where we stay). We went to have a look at the Church and I knew it was perfect right away. It was small and quaint and had the most amazing views. I knew it was right for us.
We had only planned to have my mum and dad with us on the day so I wanted to plan something very relaxed for afterwards. Puerto Portals is a beautiful area with a view of the water and yachts, a small beach close by and amazing bars and restaurants. I spotted a bar I loved the look of right away called Capricho – it was a champagne and cocktail bar and when I liaised with them they said they could also provide tapas. It worked great for us as we wanted to have some light bites and champagne after the service in a relaxed atmosphere. The bar had live music later that evening. There were lots of restaurants within walking distance and I booked a meal in lovely restaurant called Wellies for later that night. The staff were amazing in both venues. We received excellent service and were able to have a fun, relaxing day and night, with amazing weather and views.
Describe your dress? What advice would you offer brides-to-be when it comes to choosing a wedding dress for a wedding abroad?
My dress was called Kathleen by Jenny Packham – this was also my Grandmother's name. It was ivory silk and was fully beaded with pearls and sequence. It has an Art Deco style belt and a scoop neck line trimmed with diamanté. I would say it was a casual but glamorous style gown with an Art Deco 1920's feel to it.
I never wanted a traditional style wedding dress and found it difficult when I first went dress shopping to find anything I liked, but as soon as I tried on my dress I loved it. It was perfect for being away as the layers flowed, the train wasn't too long and the beading on the dress meant that there was no creasing at all, it travelled perfectly.
To be honest I followed my heart with my dress and I would advise any bride–to–be to do the same. I never wanted a big dress and I was lucky that my dream dress worked perfectly for being away and for the party back home. But I think if you have your heart set on a dress you will find a way to make it work.
Did you hire a hairdresser and make-up artist and did you have a trial beforehand? How did you ensure you they achieved the style you had in mind?
I used an English hairdresser, based close to the hotel we were staying in. I booked in for a blow dry on one of the trips to the area prior to the wedding and was happy with it. I then had a number of trials with my hairdresser at home and took lots of pictures of the style I had decided on. I booked a trial when I arrived in Majorca a few days before the wedding, using the pictures as a guide and my hair turned out great on my wedding day.
I decided to do my own make up on the day but went for a make–up lesson with make-up artist Catherine Fleming about one month before our wedding day. Catherine then did my make-up for the evening party at home.
What 5 top tips would you offer any couples planning a wedding abroad?
1) If you are even considering getting married abroad I would say go for it! We had such a special day and were able to spend the whole day together and have the day really be about us. We loved every minute of it!
2) Begin by finding out what the legal and/or Church requirements are for the country you are getting married in.
3) Do lots of online research and if at all possible, travel to the location in advance.
4) Think about what you really want from the day – we wanted something very chilled out and relaxed. I had a specific idea in my head as to how the day would go and it went perfectly. We didn't want a 'package' and I had to be very clear about this with each bar/restaurant/hotel we looked at. I know this wouldn't suit everyone as you may want to stay in a hotel or have entertainment booked etc.
5) Book a good photographer – initially we were going to book a local photographer but after meeting with Peter to discuss booking him for our evening party at home we realised there was an option to book him for our wedding day in Majorca – we are so glad we did as our photos are amazing! We have so many special moments that have been captured. One of the reasons we chose that destination was due to the scenery and location and the photos really capture this. Also, we were having such a good time we forgot to take any photos of our own so we were glad that the photographer had captured all of our special moments.
What was the highlight of your day?
There were so many! The wedding service was really personal and intimate, and my two brothers had travelled to Majorca to surprise me and were in the church when I arrived so I got the shock of my life, and it really topped the day off.
The whole day was so special and we both have such great memories of the time we spent together throughout the day, the location and views were fabulous and the bar and restaurant we went to were amazing. It was everything we had dreamed of!
View more photos from Patricia and Mickey's wedding by clicking here.